ensemble132
September 19, 2022
Friday, October 7, 2022 – 7:30 P.M.
@ The WCR Center for the Arts
Join us as we kick off our 70th season with ensemble132! We are so excited to present members of this roster-based chamber music collective for the first time on our series. Their innovative programming centers around new arrangements of existing masterworks. The Reading concert features their arrangement of Robert Schumann's Carnaval, along with solo works by Clara Schumann, and the Brahms Op. 60 Piano Quartet. This concert is funded by a grant from the Arthur Judson Foundation.
Artists:
Sahun Hong, piano
Stephanie Zyzak, violin
Luther Warren, viola
Zachary Mowitz, cello
Program:
Clara Schumann: 3 Romances for Violin and Piano, Op. 22
Robert Schumann/Hong: Carnaval, Op. 9 (arr. for piano quartet)
Brahms: Piano Quartet No. 3 in C Minor, Op. 60
We are thrilled to welcome ensemble132 to open our 70th season! ensemble132 is a roster-based chamber music collective with innovative programming centered around new arrangements of existing masterworks. Founded in 2019 by Sahun Hong, Zachary Mowitz, Luther Warren, and Stephanie Zyzak, the collective is made up of 11 exceptionally distinguished soloists and chamber musicians. A new kind of ensemble, the artists of ensemble132's roster form different combinations each season to curate and perform dynamic programs.
Each ensemble132 concert features a different set of artists in novel reimaginings of classic repertoire, from symphonies to sonatas, through the ensemble's intimate, collaborative voice. Arrangements blend orchestral magnitude and soloistic spontaneity with chamber music's conversational, collective vision to achieve new expressive heights.
The artists of ensemble132 are prizewinners at major competitions, such as the Paganini, Menuhin, Primrose, Beethoven Vienna, Vendome Prize, and American Pianists Awards. They perform regularly for ensembles and festivals, including Marlboro Music, Ravinia, Verbier, the Jupiter Symphony Chamber Players, Orpheus Chamber Orchestra, the Catalyst Quartet, and the Borromeo String Quartet.
Alongside its traditional concerts, ensemble132 presents deconstructions of the arranging process to empower audience engagement. These interactive programs rehearse, discuss, and modify arrangements with audience members as active participants. The ensemble becomes a living instrument, realizing the audience's own musical voice and creating a more personalized listening experience.
Renowned musicians have praised ensemble132's forward-thinking arrangements as "absolutely terrific . . . a delight [which] succeeds in opening up the sound of the piece in meaningful ways…" (Robert McDonald), "truly fantastic" (Gary Louie), and "a fresh approach to music that is second to none" (Herbert Greenberg). Highlights of ensemble132's 2021-22 season include premieres of new chamber versions of Stravinsky's Petrouchka and Schumann's Carnaval, with upcoming premieres of Beethoven's "Triple" Concerto and Strauss' Death and Transfiguration in '22-23.
You May Also Like
June 16, 2023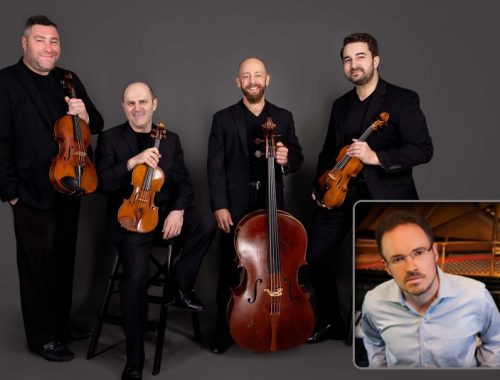 August 25, 2023
August 25, 2023